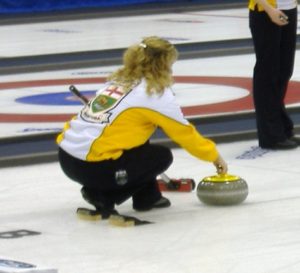 Day three of the 2017 Canadian Olympic Curling Trials in Ottawa, Ontario are now complete and there are still four undefeated teams. On the men's side, Calgary's Kevin Koe is 4-0 and Winnipeg's Mike McEwen is 3-0. While on the women's side, Winnipeg's Jennifer Jones is 4-0 and Calgary's Chelsea Carey is 3-0.
Carey needed an extra end to beat Lethbridge's Casey Scheidegger. In a game filled with mistakes by both teams, Carey came out on top 8-7 in 11 ends. The key part of the game was the seventh end as Carey was able to score three points and come back from a 5-3 deficit to take a 6-5 lead.
Jones also came from behind to beat Woodstock, Ontario's Julie Tippin. Jones was actually trailing Tippin 4-2 in the fourth end, when she scored four points and take a 6-4 lead. Jones then had three points each in the sixth and eighth ends for a 12-6 victory.
Koe once again was tested to the limit before beating fellow Albertan Brendan Bottcher of Edmonton 7-6 and McEwen beat John Epping of Toronto 8-5 to remain unbeaten.
On Tuesday, Koe will play McEwen in the afternoon (TSN, 12pm MT). Carey will play the winless Allison Flaxey of Toronto in the morning, while Jones will play Scheidegger in the afternoon. It will be a busy day for Flaxey as she has two games on Tuesday. She will also play the reigning world champion Rachel Homan of Ottawa in the evening. It is also a two game day for Reid Carruthers of Winnipeg as he has Epping in the morning and  reigning world champion Brad Gushue of St. John's, Newfoundland in the evening.