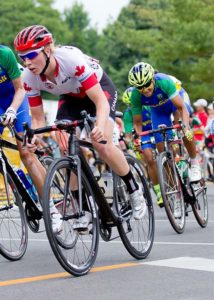 Team Canada won the gold medal in a women's World Cup team pursuit track cycling competition in Milton, Ontario on Friday. The Canadian team who won gold on their home track comprised of Ariane Bonhomme of Gatineau, Quebec, Kinley Gibson of Edmonton, Alberta, Annie Foreman-Mackey of Kingston, Ontario and Canadian Olympic bronze medalist Allison Beveridge of Calgary, Alberta.
New Zealand won the silver medal and France won the bronze medal. By finishing in second place, Canada moves into second place behind Italy in the women's team pursuit world rankings.
Team Canada won two other medals at the World Cup in Milton in events that have Olympic status. Beveridge also won the silver medal in the women's Omnium. Yumi Kajihara of Japan won the gold medal and Eleanor Dickinson of Great Britain won the bronze medal.
The Canadians also won the silver medal in the men's team pursuit. The Canadian men were comprised of Ottawa, Ontario, Adam Jamieson of Barrie, Ontario, Michael Foley of Milton, Ontario and Jay Lamoureux of Victoria, British Columbia. New Zealand won gold and Switzerland won bronze.
It appears Beveridge is starting to become the Canadian track cycling leader heading into the 2020 Olympic Games in Tokyo.  Beveridge was part of the Canadian team that won the bronze medal in the women's team pursuit at the 2016 Olympic Games in Rio de Janeiro. It was the second straight year Team Canada placed on the Olympic podium in the women's team pursuit as they also won the bronze medal at the 2012 Olympic Games in London.