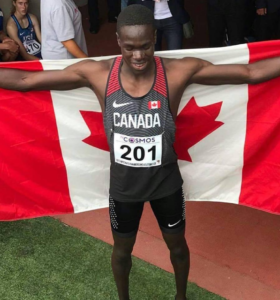 Marco Arop of Edmonton, Alberta won his third career Diamond League medal on Sunday. At the BAUHAUS-galan at the Stockholm Olympic Stadium, Arop had a second place time of one minute and 44 seconds.
Arop reached the podium by eighteen-one hundredths of a second. Adrian Ben of Spain finished in fourth place with a time of 1:44.18. Ferguson Cheruiyot Rotich of Kenya won the gold medal with a time of 1:43.84. Elliot Giles of Great Britain won the bronze medal with a time of 1:44.05.
For much of the race, Arop was actually in the lead. He could not maintain the lead however, and was passed by Rotich in the final stretch.
This was Arop's first Diamond League medal of the season. In 2020, Arop won two medals. The first medal was a bronze medal in Monaco, and the second medal was a silver medal in Stockholm.
Arop's time of 1:44.00 was also a personal best. His previous best time was 1:44.14 last year in Monaco when he won the bronze medal. The world record in the men's 800 metres currently belongs to David Rudisha of Kenya, who had a time of 1:40.91 at the 2012 Olympic Games in London. The silver medal for Arop in Stockholm for the second straight year in Diamond League action will give him confidence as he prepares for the 2020 Olympic Games in Tokyo in 2021.