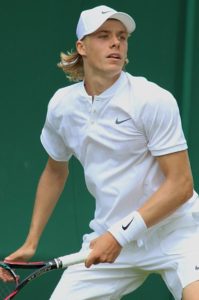 Felix Auger-Aliassime of Montreal, Quebec, and Denis Shapovalov of Toronto, Ontario, are in the fourth round of Wimbledon in 2021. On Friday, Shapovalov defeated two-time Wimbledon champion Andy Murray of Great Britain 6-4, 6-2, 6-2, while on Saturday, Auger-Aliassime reached the final 16 after Nick Kyrgios of Australia retired because of an abdominal strain.
At the time of Kyrgios's withdrawal, Kyrgios and Auger-Aliassime had won one set each. Kyrgios won the first set 6-2, and Auger-Aliassime won the first set 6-1. In a topsy-turvy match, Kyrgios dominated the first set and Auger-Aliassime dominated the second set.
Shapovalov meanwhile dominated the three-time grand slam champion. Murray won Wimbledon in 2013 and 2016, and the United States Open in 2012. The 2016 Wimbledon Championship title came over Milos Raonic of Thornhill, Ontario. In Shapovalov's win over Murray, he had 13 aces, compared to only two for Murray. Shapovalov also won 71% of his points on his first serve (compared to 52% for Murray), and won 98 total points, while Murray only won 73.
In the fourth round, Auger-Aliassime, who is seeded 16th, will play German Alexander Zverev, the fourth seed. Zverev is a grand slam finalist as he has reached the 2020 United States Open final. Head-to-head, Zverev has a 3-0 advantage. His victories came in the second round of Monte Carlo in 2019 (6-1, 6-4), second round of the 2019 China Open in Beijing (6-3, 6-1), and the final of the 2020 Bett1Hulks Indoors event in Cologne, Germany, which Zverev won 6-3, 6-3.
Shapovalov, who is seeded 10th, will play Roberto Bautista Agut of Spain, the eighth seed. Bautista Agut is a semifinalist from Wimbledon in 2019. This will be their first career meeting.