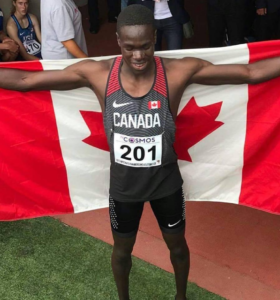 Marco Arop of Edmonton, Alberta has won the gold medal in the men's 800 metres at a Diamond League event in Lausanne, Switzerland. For Arop, it was his second straight gold medal in Diamond League action as he also won gold in Eugene, Oregon this past Saturday.
Arop posted a winning time in Lausanne of 1:44.50. Emmanuel Kipkurui Korir of Kenya won the silver medal with a time of 1:44.62. Ferguson Cheruiyot Rotich of Kenya won the bronze medal with a time of 1:45.48.
Arop earned a medal by 1.2 seconds. Gabriel Tual of France was in fourth place with a time of 1:45.70.
Arop is in second place in the Diamond League standings with 29 points. Rotich leads with 33 points.
The next Diamond League event will be in Paris, France on August 28. There is no men's 800-metre race in Brussels, Belgium on September 3, as there is only a women's 800-metre race there. The Diamond League final will return to the same country that Arop won his men's 800-metre race on Thursday, as Zurich, Switzerland will be the host on September 8 and 9.
Arop had a disappointing result in the men's 800 metres at the 2020 Olympic Games in Tokyo in 2021, as he did not qualify for the final. He will be looking for a better result at the 2024 Olympic Games in Paris.