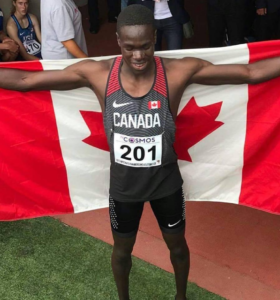 In his first ever Diamond League competition, Marco Arop of Edmonton, Alberta came away with a bronze medal. On Friday at the Herculis Track and Field Meet at Stade Louis II in Fontvieille, Monaco, Arop placed third in the men's 800 metres.
Arop posted a podium-winning time of one minute, 44.14 seconds. He reached the podium by 0.42 seconds over Benjamin Robert of France, who had a fourth-place time of 1:44.56. Donavan Brazier of the United States won the gold medal with a time of 1:43.15 and Bryce Hoppel of the United States won the silver medal with a time of 1:43.23.
Arop also set a personal best on Friday. His previous personal best was 1:44.25, which was set when he won the gold medal at the 2019 Pan American Games in Lima, in a Pan American Games record winning time. Arop became the third Canadian to win the gold medal in the men's 800 metres at the Pan American Games. He followed in the footsteps of Don Bertoia of Rossland, British Columbia, who won gold at the 1963 Pan American Games in Sao Paulo, Brazil, and Achraf Tadili of Montreal, Quebec, who won gold at the 2003 Pan American Games in Santo Domingo, Dominican Republic. The bronze medal for Arop in Monaco will give him confidence as he prepares for the Olympic Games in Tokyo in 2021.
The biggest story from the Herculis Track Meet was the fact that a world record was set in the men's 5000 metres. Joshua Cheptegei of Uganda posted a new world record time of 12 minutes, 35.36 seconds.