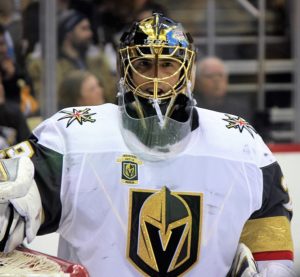 Vegas Golden Knights goaltender Marc-Andre Fleury of Sorel, Quebec recorded his National Hockey League leading fifth shutout of the season and 61st shutout of his NHL career on Wednesday. Fleury made 29 saves as the Golden Knights defeated the Edmonton Oilers 3-0 at the T-Mobile Arena in Las Vegas, Nevada.
Fleury made 12 saves in the first period, five saves in the second period and 12 saves in the third period. Connor McDavid of Richmond Hill, Ontario led the Oilers with five shots on goal.
Two Canadians scored for the Golden Knights. Nick Cousins of Belleville, Ontario put Vegas up 2-0 with a goal from Alec Martinez and Nate Schmidt at 5:44 of the third period. Then, defenseman Shea Theodore of Langley, British Columbia scored from Paul Stastny of Quebec City, Quebec and Martinez at 9:59 of the third period to put the Golden Knights up 3-0.
Since the trade deadline, a player on the opposing team of the Oilers has had a marvelous game for their new team in their debut. On Tuesday, it was Sonny Milano of the Anaheim Ducks, who scored twice in a 4-3 Ducks overtime win over the Oilers. On Wednesday, it was Cousins who scored a key goal for Vegas. Milano came to the Ducks from the Columbus Blue Jackets and Cousins came to the Golden Knights from the Montreal Canadiens.
Fleury now has a record of 26 wins, 14 regulation losses and five losses in extra time, five shutouts, a goals against average of 2.73 and a save percentage of .908. Fleury is tied for the NHL lead in shutouts with Elvis Merzlikins of the Blue Jackets.
The Golden Knights currently lead the Pacific Division with a record of 35 wins, 22 regulation losses and eight losses in extra time for 78 points. They have four more points than the second place Oilers and Vancouver Canucks.