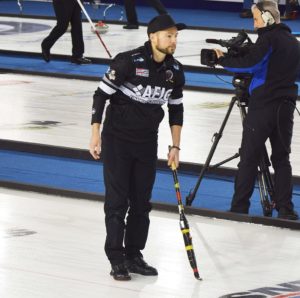 We now know all 16 teams in the 2020 Tim Hortons Brier from Kingston, Ontario. On Friday in the wild card game, Mike McEwen of Winnipeg, Manitoba defeated Glenn Howard of Midland, Ontario 5-4 to complete the field.
In the wild card matchup, McEwen took control of the match in the eighth end with a key deuce and take the 4-3 lead. Howard had a double takeout attempt and barely missed.
McEwen is one of two Manitoba teams in the competition. The other is Jason Gunnlaugson of Winnipeg, Manitoba, who is making his Tim Hortons Brier debut. Even though Gunnlaugson may be inexperienced when it comes to playing at the Brier, he has been a household name in Canadian curling for a while. Gunnlaugson is best known for skipping a team that qualified for the 2009 Canadian Olympic Curling Trials in Edmonton.
The 2020 Tim Hortons Brier field is excellent. It includes teams skipped by 2006 Olympic gold medalist and 2017 World Champion Brad Gushue of St. John's, Newfoundland, 2013 Brier champion and 2014 Olympic gold medalist Brad Jacobs of Sault. Ste. Marie, Ontario (representing Northern Ontario), four-time grand slam champion John Epping of Peterborough, Ontario (representing Ontario), two-time Brier finalist Brendan Bottcher of Edmonton, Alberta, four-time Brier champion and two-time world champion Kevin Koe of Calgary, Alberta (representing Team Canada as defending champion), 2019 Masters champion and 2019 Curling World Cup (third leg) champion Matt Dunstone of Regina, Saskatchewan and two-time grand slam finalist Steve Laycock of Vernon, British Columbia. The winner of the Brier will represent Canada at the 2020 World Men's Curling Championship in Glasgow, Scotland from March 28 to April 5.