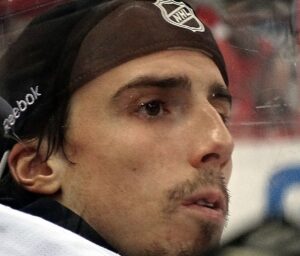 Canadian Olympic gold medalist Marc-Andre Fleury of Sorel, Quebec recorded his 68th career National Hockey League shutout on Sunday. In a 1-0 win over the Vancouver Canucks from Rogers Arena in Vancouver, British Columbia, Fleury made 40 saves in his first career shutout as a member of the Chicago Blackhawks.
Fleury made 15 saves in the first period, 15 saves in the second period and 10 saves in the third period. Conor Garland led the Canucks with six shots on goal.
The Blackhawks got their lone goal of the game at 4:12 of the third period. That is when Brandon Hagel of Saskatoon, Saskatchewan scored from Dylan Strome of Mississauga, Ontario, and Erik Gustafsson. For Hagel, it was his third game-winning goal in his NHL career. He also had the game-winning goals in a 4-3 Blackhawks win over the Columbus Blue Jackets on April 12, 2021, and in a 5-4 Blackhawks win over the Nashville Predators on April 21, 2021.
With the win on Sunday, Fleury improved to a record of five wins and seven losses. He has a goals against average of 3.05 and a save percentage of .911. Of Fleury's 67 other career NHL regular season shutouts, 44 have been with the Pittsburgh Penguins and 23 have been with the Vegas Golden Knights. Fleury won the gold medal for Canada at the 2010 Olympic Winter Games in Vancouver.