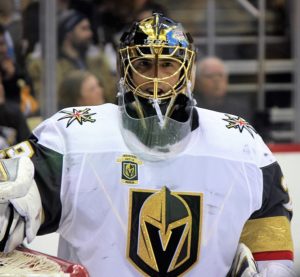 Canadian Olympic gold medalist Marc-Andre Fleury of Sorel, Quebec recorded his 58th National Hockey League career shutout on Sunday. Fleury made 34 saves as the Vegas Golden Knights beat the Calgary Flames 6-0 at the T-Mobile Arena in Las Vegas, Nevada. With the shutout, Fleury is now tied for the National Hockey League regular season lead with two shutouts.
Fleury is now one of seven goaltenders to record two shutouts this season. There are two other Canadian goaltenders on the list. They are Buffalo Sabres goaltender Carter Hutton of Thunder Bay, Ontario and Arizona Coyotes goaltender Darcy Kuemper of Saskatoon, Saskatchewan. The other goaltenders on that list are Petr Mrazek of the Carolina Hurricanes, Tuukka Rask of the Boston Bruins, David Rittich of the Calgary Flames and Pekka Rinne of the Nashville Predators.
In Sunday's win over the Flames, Fleury made 13 saves in the first period, 12 saves in the second period and nine saves in the third period. Two Canadian-born players scored for the Golden Knights as Paul Stastny of Quebec City, Quebec scored at 9:39 of the second period to put Vegas up 2-0 and Mark Stone of Winnipeg, Manitoba scored at 15:09 of the third period to put Vegas up 5-0.
Fleury, who won a gold medal for Canada at the 2010 Olympic Winter Games in Vancouver, has a record this season of 10 wins, five regulation losses and one loss in extra time. He has a goals against average of 2.52 and a save percentage of .920.
The Golden Knights are currently in fourth place in the Pacific Division. With a record of 10 wins, nine regulation losses and three losses in extra time, they have 23 points.