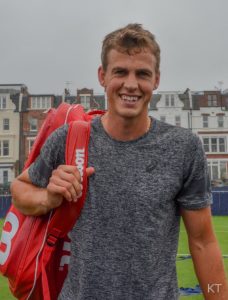 Canada has beaten Italy to begin the 2019 Davis Cup from Madrid, Spain. In three matches played at the Arantxa Sanchez Vicario Stadium, Canada defeated Italy in two matches to improve to 1-0 in Group F action.
Vasek Pospisil of Vernon, British Columbia began the day with an impressive straight set win over 12th ranked Fabio Fognini of Italy. Pospisil won 7-6, 7-5. In the match, Pospisil's serve worked better than Fognini's. Pospisil had nine aces and three double faults, compared to Fognini's three aces and five double faults.
Denis Shapovalov of Richmond Hill, Ontario then beat Matteo Berrettini 7-6, 6-7, 7-6 in three sets which required a tiebreak for every set. The match took two hours and 52 minutes and was the longest best of three match in Shapovalov's career. Shapovalov won the first and third set tiebreaks by identical 7-5 scores. Like Fognini, Berrettini is a top 15 player as he is currently ranked eighth in the world.
Canada then lost the third match of the day in doubles, as Pospisil and Shapovalov were beaten 6-2, 3-6, 6-3 to Berrettini and Fognini. That doubles match only has meaning if Canada does not beat the United States on Tuesday.
In other action on Monday, Russia beat Croatia 3-0 and Belgium beat Colombia 2-1. One of the most fascinating matchups on Tuesday has Russia against Spain.