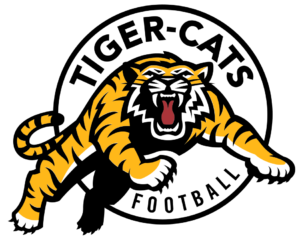 The Hamilton Tiger-Cats (15-3) will be facing the Winnipeg Blue Bombers (11-7) in the 107th Grey Cup from McMahon Stadium in Calgary on Sunday. In the conference championships this past weekend, the Tiger-Cats beat the Edmonton Eskimos 36-16 in the Eastern Final and the Blue Bombers beat the Saskatchewan Roughriders 20-13 in the Western Final.
In the Eastern Final, the Tiger-Cats were led by their two wide receivers. Bralon Addison had seven catches for 130 yards and Brandon Banks had four catches for 100 yards and one touchdown. Banks's touchdown was a spectacular 48 yard touchdown catch from Tiger-Cats Dane Evans at 3:47 of the second quarter which put Hamilton up 19-7 at the time.
Hamilton took an early 10-0 lead in the first quarter due to two Eskimos turnovers. Edmonton quarterback Trevor Harris threw an interception to defensive back Richard Leonard and running back C.J. Gable fumbled the football and the ball was recovered by  Tiger-Cats cornerback Frankie Williams.
In the Western Final, the Blue Bombers were led by kicker Justin Medlock, who successfully kicked four field goals in the seven point Winnipeg win. Saskatchewan had a chance to tie the game on the final play of the game, but Roughriders quarterback Cody Fajardo hit the upright in attempting a pass. By rule, the football at that time became dead.
The Blue Bombers and Tiger-Cats have not won the Grey Cup in the 2000's. The last time Winnipeg won was in 1990 and the last time Hamilton won was in 1999. The Tiger-Cats and Blue Bombers last played against each other for the Grey Cup in 1984. That year at Commonwealth Stadium in Edmonton, the Blue Bombers hammered the Tiger-Cats 47-17.
Even though the Tiger-Cats and Blue Bombers have not faced each other for the Grey Cup in 35 years, it was commonplace to see Hamilton and Winnipeg meet each other for the Grey Cup in the 1950's and 1960's. In a 13 year time period from 1953-1965, the Tiger-Cats and Blue Bombers met each other for the Grey Cup seven times, with Winnipeg winning four times.