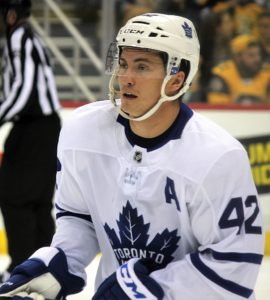 The Toronto Maple Leafs are still alive in the 2018 Stanley Cup Playoffs. On Saturday at Toronto Dominion Garden in Boston, the Maple Leafs beat the Boston Bruins 4-3 in game five of the Eastern Conference semi-final. With the win, the Maple Leafs prevented elimination, but still trail the Bruins in the best out of seven series three games to two.
Two Maple Leafs had multi-point games. They were Tyler Bozak of Regina, Saskatchewan and James van Riemsdyk, who each notched one goal and one assist for two points. The other Maple Leafs goal scorers were Connor Brown and Andreas Johnsson.
One thing the Maple Leafs do not have going for them heading into game six against Boston at the Air Canada Centre in Toronto is momentum. The Bruins dominated the third period of game five by outshooting the Maple Leafs 20-5 and Toronto was having difficulty protecting a second period three goal lead. The Bruins came back and scored twice, but Frederik Andersen made some tremendous third period stops to protect the Toronto win.
Before the game, Pierre McGuire of NBC Sports said in order for the Maple Leafs to win, Andersen needed to be as good as he was in game three of the series, which was a 4-2 Toronto win. Andersen was better in game five. Game six is Monday.