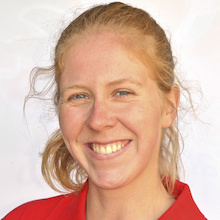 Laurence Vincent-Lapointe of Trois-Rivieres, Quebec has broken her own world record in the women's C1 200m canoeing event. Vincent-Lapointe broke the record at the 2018 Canadian Canoe Kayak Team Sprint Trials in Gainesville, Georgia.
Vincent-Lapointe had a winning time of 45.35 seconds. She actually lowered her own world record that was set at the 2017 International Canoeing Federation Sprint World Championships in Racice, Czech Republic, when she posted a time of 45.478 seconds.
There is no doubt that Vincent-Lapointe is one of the world's best female canoers and is one of Canada's gold medal contenders at the 2020 Olympic Games in Tokyo.  The reason why Vincent-Lapointe has not won an Olympic medal yet is simple. That is because her discipline, the women's C1 200m has not been an event with Olympic status until now.
Vincent-Lapointe has every right to be in the same paragraph of Canada's top canoers in the last 40 years. I am speaking about Canadian Olympic medalists Larry Cain of Toronto. Ontario, Hugh Fisher of Vancouver, British Columbia, Alwyn Morris of Kahnawake, Quebec, Alexandra Barre of Lac Beauport, Quebec, Sue Holloway of Halifax, Nova Scotia, Lucie Guay of Montreal, Quebec, Barbara Olmsted of North Bay, Ontario, Caroline Brunet of Quebec City, Quebec, Stephen Giles of St. Stephen, New Brunswick, Adam van Koeverden of Toronto, Ontario, Thomas Hall of Montreal, Quebec, Mark Oldershaw of Burlington, Ontario and Mark de Jonge of Calgary, Alberta.