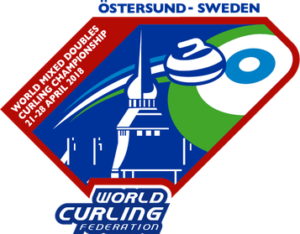 Team Canada has won its first four games of the 2018 World Mixed Doubles Curling Championships in Ostersund, Sweden.The Canadian team is composed of Laura Crocker of Edmonton, Alberta and Kirk Muyres of St. Gregor, Saskatchewan.
In the first three days of the tournament, Canada trounced Ireland 12-0 on Saturday, beat Austria 7-3 and Brazil 7-5 on Sunday and then beat Guyana 9-3 on Monday. In Canada's win over Ireland, they scored five points in the first end and in their win over Austria and Brazil, Crocker and Muyres actually played catch up. In their Austrian win, Canada was losing 3-1 after three ends before recording a single in the fourth, and then stealing points in four consecutive ends. In their Brazil win, Canada was actually trailing 5-4 after seven ends before picking up three in the eighth end.
Canada is one of 11 teams undefeated in the 40 team tournament to date. The others are Switzerland, the United States, Estonia, Finland, South Korea, the Czech Republic, Hungary, Turkey, Norway and Scotland.
Team Canada has three more round robin games. They play the Czech Republic on Tuesday at 9:45 am MT on Tuesday, Germany at 12 am MT on Wednesday and South Korea at 4:30 am MT on Thursday. Their games against Czech Republic and South Korea can be streamlined live on the World Curling Federation website.