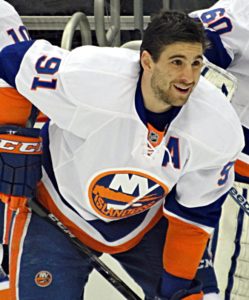 The Toronto Maple Leafs opened their wallet big time on Sunday when they signed Canadian Olympic gold medalist John Tavares of Mississauga, Ontario from the New York Islanders.The terms of the deal are seven years and $77 million.
Tavares, who has been the captain of the Islanders since 2013, had 37 goals and 47 assists for 84 points with New York in 2017-18. In 669 regular season games, Tavares had 272 goals and 349 assists for 621 points.
A first overall pick in the 2009 National Hockey League Entry Draft from the London Knights of the Ontario Hockey League, Tavares is considered an elite power forward and was considered the top free agent during the offseason. He won a gold medal for Canada at the 2014 Olympic Winter Games in Sochi.
However in acquiring Tavares, the Maple Leafs also lost four players to free agency on Sunday. They were Tyler Bozak of Regina, Saskatchewan to the St. Louis Blues, Tomas Plekanec to the Montreal Canadiens, James Van Riemsdyk to the Philadelphia Flyers and Roman Polak to the Dallas Stars. Bozak signed a three year deal worth $15 million and Van Riemsdyk had a five year deal worth $25 million. Last season, Van Riemsdyk led the Maple Leafs with 36 goals and was fifth in scoring with 54 points. Bozak meanwhile was ninth in Toronto scoring with 43 points.