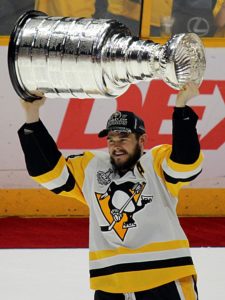 The Chicago Blackhawks signed Canadian Olympic gold medalist Chris Kunitz of Regina, Saskatchewan to a contract on Sunday. The terms of the deal are one year and $2 million.
Kunitz played a full 82 games with the Tampa Bay Lightning in 2017-18. He had 13 goals and 16 assists for 29 points. Kunitz was also a +8 with 35 penalty minutes.
A gold medalist with Canada at the 2014 Olympic Winter Games in Sochi, Kunitz scored one of three goals for Canada in the gold medal game of the 2014 Olympic men's hockey tournament as Canada blanked Sweden 3-0. Other significant accolades for Kunitz include being named to the National Hockey League's first all-star team in 2012-13, and winning four Stanley Cups. He won with the Anaheim Ducks in 2007, and the Pittsburgh Penguins in 2009, 2016 and 2017.
In addition to Kunitz, the Blackhawks signed another Canadian Stanley Cup champion. They acquired goaltender Cam Ward of Saskatoon, Saskatchewan, from the Carolina Hurricanes and signed him to a one year deal worth $3 million. Ward, who won a Conn Smythe Trophy as a rookie with the Hurricanes in 2006, has spent his entire 13 year NHL career with the Hurricanes. An all-star in 2011, Ward led the NHL in saves that year with 2191.
The Blackhawks signed a third Canadian on Sunday. Defenseman Brandon Manning of Prince George, British Columbia signed a two year deal worth $2 million. Last year in Philadelphia, Manning had seven goals and 12 assists for 19 points–all career highs.