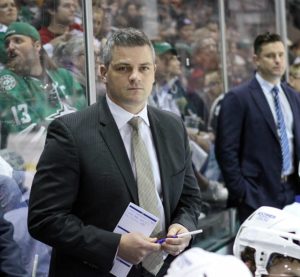 The Toronto Maple Leafs made National Hockey League headlines on Wednesday when they announced the firing of Mike Babcock of Manitouwadge, Ontario and hiring of Sheldon Keefe of Brampton, Ontario.  Keefe had been the head coach of the Toronto Marlies of the American Hockey League.
As a player, Keefe played three seasons with the Tampa Bay Lightning of the National Hockey League from 2000 to 2003. In 125 regular season games, he had 12 goals and 12 assists for 24 points, was a -25, with 78 penalty minutes, one game winning goal, two power play points and 135 shots on goal.
Keefe's lone game winning goal came on March 10, 2002 in a 5-1 Lightning win over the Nashville Predators. Keefe scored at 17:26 of the second period from Brad Richards of Murray Harbour, Prince Edward Island and Canadian Olympic gold medalist Dan Boyle of Ottawa, Ontario, which put the Lightning up 2-1 at the time. Keefe also assisted on goals by Nikita Alexeev and Boyle, who won the gold medal for Canada at the 2010 Olympic Winter Games in Vancouver. 
Keefe's coaching career began in 2006 with the Pembroke Lumber Kings of the Central Canada Hockey League. He was there until 2012. Keefe then coached the Sault Ste. Marie Greyhounds of the Ontario Hockey League from 2012-2015 and then the Toronto Marlies of the American Hockey League from 2015-2019. He won the Calder Cup with the Marlies in 2018.