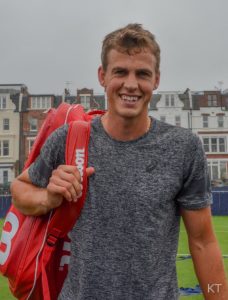 Canada will face Australia in the 2019 Davis Cup quarterfinals on Thursday. On Tuesday, it was an historic day in Canadian tennis history as Canada defeated the United States two matches to one to close out Group F action. It was the first time in Canadian history that Canada beat the United States in Davis Cup action. Prior to Tuesday, Canada had gone 0-15, with their last meeting back in 1965.
Vasek Pospisil of Vernon, British Columbia came through with an outstanding 7-6, 7-6 win over the 6'11" serving specialist Reilly Opelka. Pospisil won despite the fact Opelka had 28 aces compared to Pospisil's eight. There were no breaks of serve in the entire match, and Pospisil won 7-5 in the first set tiebreak and 9-7 in the second set tiebreak.
Denis Shapovalov of Toronto, Ontario then beat Taylor Fritz of the United States 7-6, 6-3. Shapovalov's serve was working extremely well as he had nine aces compared to Fritz's two. Shapovalov was able to break Fritz in each set and win 30 of 54 second set points.
The Canada/Australia match will be the only quarterfinal on Thursday. The other quarterfinals have not yet been determined. What we do know is that Spain has reached one quarterfinal on Friday after they defeated Croatia in all three Group B matches on Wednesday.