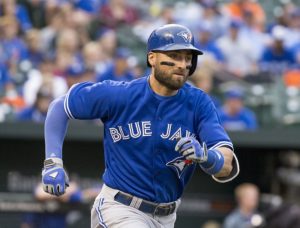 The Toronto Blue Jays traded center fielder Kevin Pillar to the San Francisco Giants on Tuesday. In return, the Blue Jays received relief pitcher Derek Law, second baseman Alen Hanson and pitching prospect Juan De Paula. In a separate trade the Blue Jays also acquired outfielder Socrates Brito from the San Diego Padres for minor league prospect Rodrigo Orozco.
The two most significant names in the deals made by the Blue Jays today were Pillar and Hanson. Pillar had spent the last seven seasons with the Blue Jays and became a fan favourite during the period when the Blue Jays reached the American League playoffs in 2015 and 2016. Last season he batted .252 with 15 home runs and 59 runs batted in.
Hanson, who also plays the outfield, shortstop and third base, has a little bit more versatility than Pillar, and in 2018 put up similar offensive numbers. He batted .252 with eight home runs and 39 runs batted in. It should also be noted however that Pillar had 218 more at bats than Hanson.
The Blue Jays have won two of their first five games to begin the 2019 Major League Baseball season. After splitting with the Detroit Tigers in their first four games, the Blue Jays lost 6-5 to the Baltimore Orioles on Monday. The Blue Jays need to be thrilled with their starting pitching to date, as Marcus Stroman, Aaron Sanchez, Trent Thornton and Matt Shoemaker have been excellent so far in 2019.