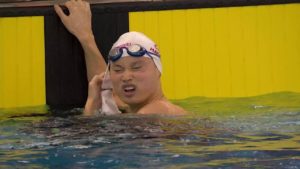 According to the Canadian Press on Wednesday, Canadian swimming sensation Maggie MacNeil of London, Ontario was named the Big Ten Conference female swimmer of the year on Wednesday. MacNeil won six gold medals for the University of Michigan at the 2020 Big Ten Swimming and Diving Championships in Iowa City, Iowa from February 19 to 22.
MacNeil's six gold medals came in the women's 50-yard freestyle, women's 100-yard freestyle, women's 100-yard butterfly, women's 400-yard freestyle relay, women's 200-yard medley relay, and women's 400-yard medley relay. Unlike the World Aquatics Championships which uses a metric system for each event, the National Collegiate Athletic Association still uses the imperial system when it comes to distances.
Unfortunately for MacNeil, she was unable to compete this year at the NCAA Championships. That was to take place from March 18 to 21 in Athens, Georgia, but was cancelled because of coronavirus. The state of Georgia has been one of the hardest hit states of coronavirus. There are currently 35,858 cases of coronavirus in the peach state and 1527 deaths.
MacNeil made Canadian sports headlines in 2019 as she won three medals at the World Aquatics Championships in Gwangju, South Korea. She placed first in the women's 100 metre butterfly and won bronze medals in the women's 4×100 metre freestyle relay and the women's 4×100 metre medley. MacNeil is expected to be a strong medal contender for Canada at the 2020 Olympic Games in Tokyo in 2021.