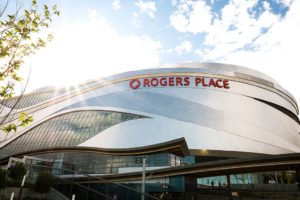 The National Hockey League at this time is making plans to attempt to complete its season sometime this summer. Even though the odds are against them because of the deadly coronavirus pandemic, the premiers of British Columbia and Alberta have both had discussions with NHL Commissioner Gary Bettman about the possibility of an arena or arenas being used in Vancouver or Edmonton when it is safe for the National Hockey League to return.
Many have believed that the NHL would choose one city from each of the four NHL divisions as what is being called a "hub city." However, in a recent interview between Bettman and Ron MacLean of Rogers Sportsnet, we could potentially have four arenas in the NHL (not isolated to a particular geographical area) where hockey could be played.
This means there could potentially be NHL games being played in Edmonton and Vancouver. You have to keep in mind that there will be no spectators, so home-ice advantage could be reduced. It is not out of the question that you could see games being played in Edmonton and the Edmonton Oilers playing in Vancouver.
Why not Winnipeg and Toronto as well? There are many parts in the United States that are not taking coronavirus seriously. As of May 14, there were 1, 449, 744 cases of coronavirus in the United States alone and 86, 580 deaths. In Canada, there are 73,335 cases and 5,468 deaths. There are currently 13,245 more deaths in the United States than cases in Canada.
Negotiations between scientists, politicians, and NHL executives need to continue in order for NHL players to be allowed to get back to their NHL cities. Don't forget the border between Canada and the USA is closed. Once they are ready to play, it just makes sense that all teams play throughout Canada rather than the United States.