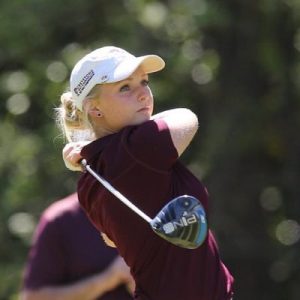 Maddie Szeryk of London, Ontario has moved into first place in Group 8 at the 2023 Bank of Hope World Matchplay Golf Championship in Las Vegas, Nevada. On Thursday, Szeryk beat 2009 United States Women's Open champion Eun-hee Ji of South Korea 3&2 to improve her record to one win and one draw. Szeryk is tied for first place with Linn Grant of Sweden.
It was a strong start for Szeryk as she won three of the first four holes. She birdied the first two holes to go two-up, and then won the fourth hole when Ji bogeyed. Ji then won the eighth hole to pull within two. Szeryk once again went three up with a birdie on the 10th hole. Ji and Szeryk won two holes each over the next five holes. Ji birdied the 11th and 15th holes, while Szeryk birdied the 12th and 13th holes.
Szeryk now advances to Saturday's action if she has a better result than Grant. Szeryk plays Matilda Castren of France, and Grant plays Ji. If Szeryk and Grant have the same result, a playoff will be needed.
Meanwhile, Brooke Henderson of Smiths Falls, Ontario lost on Thursday and is now one win and one loss. In order for her to qualify for the round of 16, Henderson needs to beat 2019 United States Women's Open champion Jeong-eun Lee of South Korea and hope Yaeeun Hong of South Korea beats Sophia Schubert of the United States.