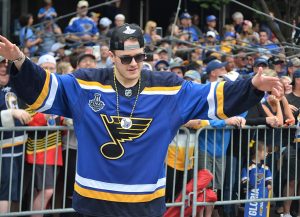 Team Canada is in the semifinals of the 2023 World Men's Hockey Championship. On Thursday from Tampere, Finland, Canada defeated Finland 4-1 in the quarterfinals. The four Canadian goal scorers were Buffalo Sabres right winger Jack Quinn of Ottawa, Ontario, St. Louis Blues left winger Samuel Blais of Montmagny, Quebec, Arizona Coyotes left winger Michael Carcone of Ajax, Ontario, and team captain and Calgary Flames right winger Tyler Toffoli of Scarborough, Ontario.
Canada will next play Latvia in the semifinals on Saturday in Tampere. In a gigantic upset, Latvia defeated Sweden in the quarterfinals by a score of 3-1 in Riga, Latvia. This is the first time ever that Latvia has been in the semifinals of the World Men's Hockey Championship. The other semifinal has the United States versus Germany. The United States beat Czechia 3-0 in Tampere on Thursday, while Germany beat Switzerland 3-1 in Riga.
Canada has now won their last eight quarterfinal games at the World Men's Hockey Championships. In addition to Thursday's win, they beat Belarus 9-0 in 2015 in Prague, Czechia; Sweden 6-0 in 2016 in Saint Petersburg, Russia; Germany 2-1 in 2017 in Cologne, Germany; Russia 5-4 in overtime in 2018 in Copenhagen, Denmark; Switzerland 3-2 in overtime in 2019 in Kosice, Slovakia; Russia 2-1 in overtime in 2021 in Riga, and Sweden 4-3 in overtime in 2022 in Tampere.