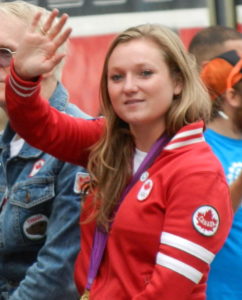 Two-time Canadian Olympic gold medalist Rosannagh MacLennan of Toronto, Ontario is now a two-time world champion in the individual discipline of women's trampoline. On Saturday, MacLennan was flawless as she won the gold medal at the 2018 World Trampoline Championships in Saint Petersburg, Russia.
MacLennan posted a score of 57.18 points. Xueying Zhu of China won the silver medal with a score of 57.08 points. Yana Pavlova of Russia won the bronze medal with a score of 56.405 points.
MacLennan reached the podium by 1.695 points. Lingling Liu of China finished in fourth place with a score of 55.585 points.
MacLennan won three medals at the 2018 World Trampoline Championships in Saint Petersburg, Russia. However the other two events do not have full Olympic medal status. She won silver with Sarah Milette of Longueuil, Quebec in the women's synchronized trampoline competition and then won bronze in the all-around team competition with Canadian Olympic silver medalist Jason Burnett of Toronto, Ontario, Jeremy Chartier of Montreal, Quebec, Jacob Cranham and Michael Chaves of Mississauga, Ontario, Zoe Hipel of Aurora, Ontario, Laurence Roux of Laval, Quebec and Jon Schwaiger of Calgary, Alberta.
Chartier recently made headlines because he was the flag bearer for Canada at the 2018 Youth Olympic Games in Buenos Aires, Argentina. MacLennan won her Olympic gold medals at the 2012 Olympic Games in London and the 2016 Olympic Games in Rio de Janeiro, while Burnett won his Olympic silver medal at the 2008 Olympic Games in Beijing.