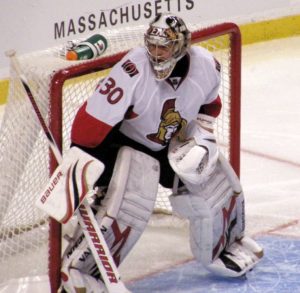 Brian Elliott of Newmarket, Ontario recorded his 38th National Hockey League career shutout on Saturday as the Philadelphia Flyers blanked the Chicago Blackhawks 4-0 at the Wells Fargo Center in Philadelphia, Pennsylvania. Elliott made 33 saves in the game as he had 13 saves in the first period, eight saves in the second period and 12 saves in the third period.
It was Elliott's second career shutout as a member of the Philadelphia Flyers and first of the season. He previously made 17 saves in a 5-0 Flyers win over the New York Rangers on April 7, 2018. So far in 2018-19, Elliott has played 12 games, has a record of six wins, five losses, a goals against average of 2.67 and a save percentage of .909.
Of Elliott's 38 career shutouts in the National Hockey League, 25 have come with the St. Louis Blues, nine with the Ottawa Senators, and two each with the Calgary Flames and Flyers. Elliott made the National Hockey League even though he was the second last player taken in the 2003 NHL Entry Draft. He was selected in the ninth round, 291st overall, by the Senators. Only left winger Arseny Bondarev, who was selected by the New Jersey Devils, was selected below Elliott.
The Flyers are currently in second place in the Metropolitan Division with 19 points. They are one point back of the division leading Columbus Blue Jackets.