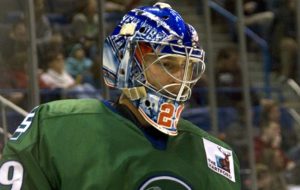 Chad Johnson of Saskatoon, Saskatchewan recorded his first shutout as a member of the St. Louis Blues on Friday. He made 33 saves as the Blues upset the San Jose Sharks 4-0. Johnson made six saves in the first period, 13 saves in the second period and 14 saves in the third period.
Do not be surprised if Johnson, who was raised in Calgary, Alberta, will start to take starts away from the Blues number one goaltender, Jake Allen of Fredericton, New Brunswick. In five starts, Johnson has a record of three wins and two losses with a goals against average of 1.83 and a save percentage of .941. Allen meanwhile has struggled as he has a goals against average of 3.99 and a save percentage of .879.
It was also Johnson's eighth career shutout. He previously recorded three shutouts with the Calgary Flames, two shutouts with the Boston Bruins and one shutout each with the Buffalo Sabres and Phoenix Coyotes.
The Blues are currently tied for fifth in the Western Conference with the Chicago Blackhawks. Both the Blues and Blackhawks only have 15 points. However, the Blues and Arizona Coyotes have played the fewest games in the Western Conference at only 14 games each, and the Blues are only four points back of the Winnipeg Jets for fourth place in the Central Division. The Blues also have a game in hand against the Jets.