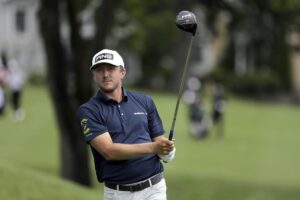 Mackenzie Hughes of Hamilton, Ontario delivered an upset in his opening match of the 2021 World Match Play Golf Championships in Austin, Texas on Wednesday. Ranked 48th in the event, Hughes defeated Paul Casey of England 3 & 2.
The Hughes win over Casey was notable because Casey was one of the contenders to win the tournament. At 25-1, Casey was the seventh-highest ranked player to be in the winner's circle, has reached the final of two World Matchplay Golf Championships in the past, and has been red-hot lately, as he has had four top-10 finishes in his last four starts.
However, there is a saying in match play when it comes to golf, that 'anything can happen,' and that is precisely what happened in one of two Group 9 matches. Hughes got off to a great front nine, as he went three-up with birdies on the third, fourth, and sixth holes.
Casey and Hughes each birdied the first hole, however, Casey would not get his second birdie until the par-three seventh. At that point, Casey was only two holes down. Then on the back nine, Hughes went three-up again with a birdie on the par-five 10th. Casey responded by winning the 13th hole to return to two-down. However, Hughes went three-up again by winning the 14th hole.
Hughes and 2012 U.S. Open champion Webb Simpson of Raleigh, North Carolina both won their Group 9 matches. Simpson, seeded ninth, beat American Talor Gooch 6 & 5. Hughes will play Simpson on Thursday, and Gooch on Friday. In order for Hughes to advance in the tournament, he needs to win his group.
There is one other Canadian in the 2021 World Match Play Golf Championship. That is Corey Conners of Listowel, Ontario, who lost 3 & 1 to Matthew Wolff of Simi Valley, California.