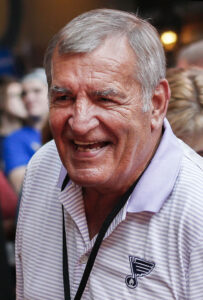 Former St. Louis Blues defenseman Bob Plager of Kirkland Lake, Ontario died from a car accident in St. Louis, Missouri on Wednesday at the age of 78 according to Zach Leach of Pro Hockey Rumours. Plager spent 14 seasons in the National Hockey League (three seasons with the New York Rangers from 1964 to 1967, and then 11 seasons with the St. Louis Blues from 1967 to 1978).
In 645 games, Plager had 20 goals and 126 assists for 146 points. He was a +18 with 800 penalty minutes, two shorthanded goals, four game-winning goals, nine power-play points, 10 shorthanded points, and 765 shots on goal.
It was interesting that Plager had two shorthanded goals in his career, but no power-play markers. He had one shorthanded goal each in the 1973-74, and the 1975-76 seasons. Plager's best season came in 1972-73, when he had a career-high in assists (31), and points (33).
In the playoffs, Plager had two goals and 17 assists for 19 points in 74 games. He was a -24 with 195 penalty minutes and 98 shots on goal. Plager was on the Blues team that reached the Stanley Cup Finals in the Blues' first three years of existence in 1968, 1969, and 1970. The Blues lost to the Montreal Canadiens in 1968 and 1969, and then to the Boston Bruins in 1970.
Bob Plager also played with his brothers Bill and Barclay on the Blues from 1968 to 1972. After his retirement, Bob Plager coached the Blues for part of one season, and had a record of four wins, six losses, and one tie for nine points in 1992-93.
In 2017, Bob Plager had his number five retired by the Blues. He is one of seven Blues players to have their number retired. Bob joined his brother Barclay, who had his number eight retired by the Blues. The Barclay brothers are one of two sets of brothers to have their numbers retired by the same NHL team. The others are the Richard brothers (Maurice and Henri), who had their numbers retired by the Montreal Canadiens.