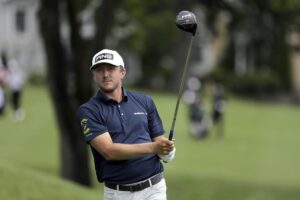 Mackenzie Hughes of Hamilton, Ontario has reached the round of 16 at the 2021 World Golf Matchplay Championship in Austin, Texas. Hughes advanced to Saturday's play by winning the ninth group. On Thursday, he defeated Webb Simpson of the United States 4 & 3, and on Friday, halved his match with American Talor Gooch.
On Thursday, Hughes dominated Simpson of Raleigh, North Carolina, the 2012 U.S. Open, and the tournament's ninth seed. Hughes, who was seeded 48th in the draw, collected four birdies on the front nine, as he had a score of three on the par-four third and ninth holes, and a score of four on the par-five sixth and eighth holes. Simpson meanwhile only had one birdie on the front nine, and that came on the seventh hole.
Then on the back nine, Simpson pulled to within two holes down after collecting a birdie on the 12th hole. However, Hughes responded with birdies on the 14th and 15th holes to win the match.
Then on Friday, Hughes did enough to win the pool by tying Gooch. Hughes's key shot was an amazing approach shot on the 16th hole, as his golf ball landed very close to the hole. In the round of 16, Hughes will play Sergio Garcia of Spain, the 2017 Masters champion.