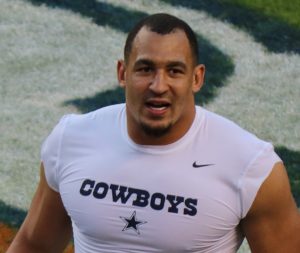 According to TSN on Thursday, Dallas Cowboys defensive end Tyrone Crawford of Windsor, Ontario has retired at the age of 31. Crawford had been with the Cowboys for the last eight seasons, as he played 112 games from 2012 to 2020.
In that period of time, Crawford started 79 games and had 194 combined tackles (120 solo tackles and 74 assisted tackles), 33 tackles for a loss, 65 quarterback hits, 25 sacks, six pass deflections, three forced fumbles and three fumble recoveries. In 2020, his final season with the Cowboys, Crawford had 14 combined tackles (seven solo tackles and seven assisted tackles), four quarterback hits, two tackles for a loss and two sacks.
Crawford also played in five playoff games for the Cowboys in the 2014, 2016 and 2018 seasons. He had nine combined tackles (five solo tackles and four assisted tackles), and one pass deflection.
While growing up in Canada, Crawford played high school football at Catholic Central in Windsor, Ontario. He then played at Bakersfield College in California and Boise State University in Idaho before being drafted in the third round, 81st overall, by the Cowboys in the 2012 National Football League Draft.
In addition to playing defensive end, Crawford played defensive tackle at times with the Cowboys. Like many professional sports athletes, Crawford experienced his fair share of injuries. While in the NFL he had a heart murmur, torn Achilles, groin strain, torn rotator cuff and hip surgery.