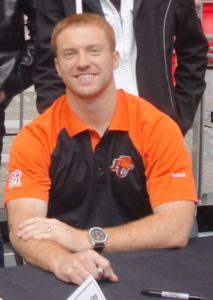 British Columbia Lions quarterback Travis Lulay announced his retirement on Thursday at the age of 35. Lulay had a remarkable 2011 Canadian Football League season as he was the CFL's most outstanding player, CFL All-Star and Grey Cup most valuable player. That season the Lions won the Grey Cup as they defeated the Winnipeg Blue Bombers 34-23 at BC Place Stadium in Vancouver, British Columbia.
Lulay played 10 seasons for the Lions from 2009-2018. In his outstanding 2011 season with the Lions, he completed 342 passes in 583 attempts for 32 touchdowns and 11 interceptions. He also had 391 rushing yards in 47 attempts and three touchdowns.
The retirement of Lulay does not come as a huge surprise. The Lions are definitely committed to Mike Reilly as their starting quarterback over the next few years.
In other CFL quarterback news, Brandon Bridge of Toronto, Ontario has signed with the Toronto Argonauts. Last year with the Saskatchewan Roughriders, Bridge completed 82 of 131 pass attempts for 804 yards, one touchdown and three interceptions. He also had 110 rushing yards. The Argonauts have also signed linebacker Ian Wild. In 2018, Wild had 12 defensive tackles and one touchdown on a blocked punt.
The Roughriders meanwhile have signed running back Kienan Lafrance of Winnipeg, Manitoba. Last year Lafrance had 36 carries and 137 yards and two touchdowns in a backup role in Winnipeg behind Andrew Harris of Winnipeg, Manitoba at running back. Other Canadians to sign recently include wide receiver Felix Faubert-Lussier of Montreal, Quebec (signed with Montreal from Hamilton), linebacker DJ Lalama of Winnipeg, Manitoba (signed with Winnipeg from Montreal), defensive lineman Andrew Marshall of Nanoose Bay, British Columbia (Ottawa to Edmonton), wide receiver Nate Behar of London, Ontario (Edmonton to Ottawa), and wide receiver Anthony Parker of Vancouver, British Columbia (B.C. to Edmonton).
Other notable signings include slotback Emmanuel Arceneaux going from the Lions to the Roughriders, defensive lineman Justin Tuggle going from the Argonauts to the Tiger-Cats, running back Cameron Marshall going from the Roughriders to the Tiger-Cats, defensive lineman Maxx Forde going from the Lions to the Blue Bombers, and defensive lineman Ivan McLennan going from the Lions to the Stampeders. Arceneaux had 32 catches for 553 yards and one touchdown in 2018. Four times he has had over 1000 yards receiving. Tuggle had 63 tackles, three sacks and two forced fumbles in 2018. Marshall had 220 yards rushing for the Roughriders. McLennan had 16 tackles and two sacks with the Lions last year.