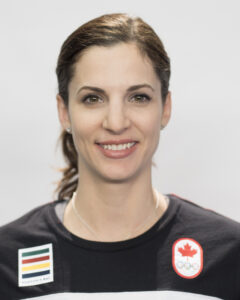 According to Devin Heroux of CBC Sports on Tuesday, Lisa Weagle of Ottawa, Ontario will be the full-time lead for Team Jennifer Jones during the 2021 curling season. That is because the other lead on Team Jones, Dawn McEwen of Winnipeg, Manitoba, is pregnant, and does not plan to participate in the Calgary bubble for the 2021 Scotties Tournament of Hearts. Dawn McEwen is expecting a child with husband Mike McEwen, a five-time Brier representative.
Weagle first joined Team Jones in March of 2020, when she was shockingly dropped by Rachel Homan's team out of Ontario. Weagle was to be part of a unique five-woman rotation on Team Jones for the 2021 Scotties Tournament of Hearts before the announcement of McEwen's pregnancy. The team is also to include third Kaitlyn Lawes, and second Jocelyn Peterman.
Jones is a six-time Scotties Tournament of Hearts champion as she won in 2005, 2008, 2009, 2010, 2015, and 2018. She also won a gold medal for Canada at the 2014 Olympic Winter Games in Sochi. 
Weagle is considered the best lead in the world. She has been a fixture of Rachel Homan's curling team over the last decade, and has been known for her exceptional tick shots.
It will now be interesting to see if Homan plans to curl at the Scotties in Calgary in February. That is because she too is pregnant, and expecting in the spring. Homan is a three-time Scotties champion, and 2017 world champion, and like Team Jones, considered a contender to win the Scotties in 2021.