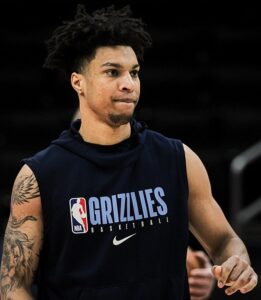 Heading into the season, it was expected that Brandon Clarke of Vancouver, British Columbia would continue to come off the bench in 2020-21 and provide the Memphis Grizzlies with much needed secondary scoring. There was a chance that Clarke would see more minutes to begin the year because Jaren Jackson Jr. would not be ready due to added recovery time from knee surgery. The Grizzlies already had a Canadian starter in shooting guard Dillon Brooks of Mississauga, Ontario, and Grizzlies head coach Taylor Jenkins decided to go with two shooting guards in Brooks and Grayson Allen, rather than starting a power forward in Clarke.
As Allen struggled mightily on the court after Memphis's first four games (19 points in 91 minutes), the Grizzlies decided to make a change when Allen sprained his ankle, and included Clarke in the starting rotation. The move has paid off for Memphis, as Clarke has been exceptional. In 13 games, and nine starts, Clarke has averaged 13.2 points per game, and 6.1 rebounds per game, with a field goal percentage of .472.
Clarke's best game this season came on January 8, in a 115-110 Memphis win over the Brooklyn Nets, which are coached by Canadian Hall of Famer Steve Nash of Victoria, British Columbia. In this contest, Clarke was second on the Grizzlies in scoring with 21 points. The Grizzlies leader meanwhile happened to be Brooks with 24 points.
On Saturday, Clarke then had his first double-double of the season as Memphis beat the Philadelphia 76ers 106-104. He had 11 points and 11 rebounds in the contest. The double-double preceded a 17-point performance against the rising Phoenix Suns in a 108-104 win on Martin Luther King Day.
The Grizzlies are now at seven wins and six losses. They are also red hot, as they have won their last five games, and are eighth in the Western Conference.