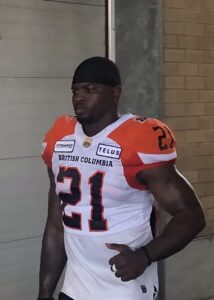 British Columbia Lions running back Brandon Rutley of Tuscaloosa, Alabama retired from the Canadian Football League on Friday at the age of 31 according to cfl.ca. Rutley played seven seasons in the CFL in 2012, and again from 2014 to 2019, with the Hamilton Tiger-Cats, Montreal Alouettes, and Lions.
In 11 games with the Lions in 2019, Rutley had 61 carries for 341 yards, and nine catches for 76 yards. He also saw significant work on special teams. Rutley had his first 21 career punt returns (for 154 yards), 22 kickoff returns for 533 yards, and one touchdown, and his only career missed field goal return for 26 yards. Rutley's kickoff return for a touchdown came in a 33-23 Lions loss to the Winnipeg Blue Bombers on June 15. It was for 108 yards.
In Rutley's career, he had 326 carries for 1695 yards, and five touchdowns, along with 85 catches for 802 yards and five more touchdowns. He also had 44 kickoff returns for 1014 yards, and one touchdown.
Rutley's finest season came in 2016 when he had 495 yards rushing and 305 yards receiving for Montreal. He also had six touchdowns.
A product of San Jose State, Rutley tried out with the Oakland Raiders in 2012. Primarily the backup running back while with the Alouettes from 2014 to 2017, Rutley was then traded to the Lions on January 15, 2018, for future considerations.