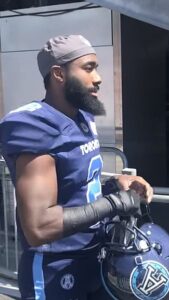 According to Farhan Lalji of TSN on Monday, the British Columbia Lions have signed kick returner Chris Rainey of Lakeland, Florida. Rainey is returning to the Lions after previously playing for them from 2015 to 2018. In addition to playing four seasons with the Lions, Rainey played the 2014 season with the Montreal Alouettes, and the 2019 season with the Toronto Argonauts.
In 2019 with the Argonauts, Rainey had 62 punt returns for 596 yards, and one touchdown. He also had 59 kickoff returns for 1196 yards. Rainey was also used by the Argonauts in an offensive role. He had 45 rushes for 220 yards, and 18 catches for 134 yards. Rainey's punt return touchdown ironically came against the Lions in an 18-17 Toronto loss to British Columbia on July 6, 2019. It was the fifth time Rainey had a punt return touchdown in his career. He also has two kickoff returns for a major score.
In six Canadian Football League seasons, Rainey has 205 carries for 1038 yards, and three touchdowns. He also has 145 catches for 1293 yards, and nine touchdowns, 325 career punt returns for 3522 yards, and 284 kickoff returns for 6671 yards. Rainey was also a CFL All-Star with the Lions in 2016.
In 2012 and 2013, Rainey played in the National Football League with the Pittsburgh Steelers and Indianapolis Colts respectively. In 2012, Rainey had 26 carries for 102 yards, and two touchdowns, along with 14 catches for 60 yards. He was also used by the Steelers and Colts as a kick returner.