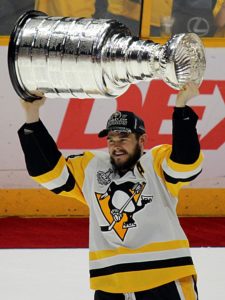 The Tampa Bay Lightning  signed Canadian Olympic gold medalist and four-time Stanley Cup champion Chris Kuntz of Regina, Saskatchewan on Saturday. The terms of the deal, according to www.nhl.com are for one year and $2 million.
A left winger, Kunitz played for the Pittsburgh Penguins last season and had nine goals and 20 assists for 29 points. In 71  regular season games, he had 36 penalty minutes, three game winning goals, 134 shots on goal, three faceoff wins, 216 hits, 28 blocked shots, 25 takeaways and 28 giveaways.
The Lightning become Kunitz's fourth National Hockey League team. In addition to the Penguins, Kunitz has also played for the Anaheim Ducks and Atlanta Thrashers.
Kunitz's best season came in 2013-14 when he notched 35 goals and 33 assists for 68 points. He had career highs in goals and points while playing with Sidney Crosby. Kunitz also won a gold medal for Canada in men's ice hockey at the 2014 Olympic Winter Games in Sochi. 
Kunitz is one of two key Canadian acquisitions by the Lightning this weekend. The other is defenseman Dan Girardi of Welland, Ontario, who signed a two year deal worth $6 million with Tampa Bay. Last year with the New York Rangers, Girardi had four goals and 11 assists for 15 points. A defensive minded blueliner, Girardi is a career +58 in 788 National Hockey League regular season games.