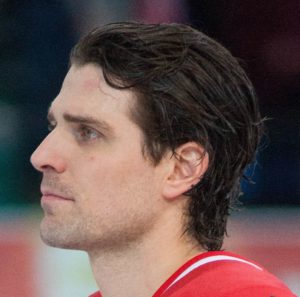 The Chicago Blackhawks have brought back Canadian Olympic gold medalist Patrick Sharp of Winnipeg, Manitoba. A left winger, Sharp brings leadership and experience to Chicago as he has played in 869 National Hockey League career regular season games.
Last season, Sharp only played 48 National Hockey League regular season games with the Dallas Stars due to injury, and notched eight goals and 10 assists for 18 points and was a -22. He had two concussions and a hip problem that caused him to have season ending surgery in March.
Sharp's -22 was a career low. His 18 points was also the fewest number of points he had since his rookie season of 2003-04, when he had seven for the Philadelphia Flyers in 41 games. This past season, Sharp also had 31 penalty minutes, one power play goal, one short handed goal, 146 shots, 29 faceoff wins, 24 hits, 24 blocked shots, 16 takeaways and 21 giveaways.
Sharp's best season came in 2013-14, when he tied his career high in goals (34), and set highs in assists (44) and points (78). It was also that season he won a gold medal for Canada at the 2014 Olympic Winter Games in Sochi. 
Sharp spent 10 seasons with Chicago from 2005 to 2015, and while he was with the Blackhawks he became a prolific top six forward. With the loss of Marian Hossa for the season with a progressive skin disorder, Sharp could fit into the Blackhawks lineup again just nicely if he successfully recovers from his hip ailment. The terms of his contract are for one year and $800,000.