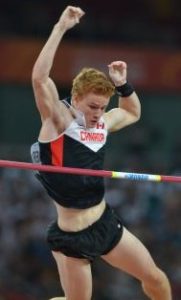 Shawnacy Barber of Toronto, Ontario won his second Diamond League men's pole vault medal of the 2017 athletics season on Saturday. Barber won the bronze medal at a Diamond League event in Paris, France.
Barber jumped 5.62 metres on Saturday to beat Pawel Wojciechowski of Poland, who jumped the same height of 5.62 metres. Barber however got on to the podium and finished third because he had two unsuccessful vaults in reaching 5.62 metres, while Wojciechowski had three.
Reigning Olympic bronze medalist Sam Kendricks of Oceanside, California won the gold medal for the United States in Paris with a jump of 5.82 metres. Renaud Lavillenie of France won the silver medal with a jump of 5.62 metres. Lavillenie, who won the gold medal at the 2012 Olympic Games in London and the silver medal at the 2016 Olympic Games in Rio de Janeiro, beat Barber for silver because he had zero unsuccessful attempts in reaching 5.62 metres.
Prior to Paris, Barber won a bronze medal at a Diamond League event in Shanghai, China in May. The bronze medals will give Barber confidence as he prepares for the 2020 Olympic Games in Tokyo. 
Barber is trying put a disappointing 2016 Olympic Games behind him where he finished 10th. Expectations were high for Barber heading into Rio because he was the reigning world champion and Pan American Games champion, but was unable to deliver last August. Controversy surrounded Barber after the 2016 Olympic Games in Rio because it was announced by the Canadian Sport Dispute Resolution Centre that Barber tested positive for cocaine prior to the Olympic Games, but was allowed to participate on the world's biggest stage for pole vaulters because the incident was inadvertent.