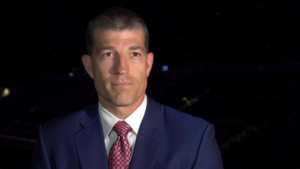 The Tampa Bay Lightning made a surprise announcement on Tuesday. The Lightning named Julien BriseBois of Greenfield Park, Quebec their eighth general manager in franchise history when Steve Yzerman of Cranbrook, British Columbia announced that he would step down as the Lightning general manager but would remain with the hockey club as an advisor.
BriseBois had been the assistant general manager of the Lightning from 2010-2018 and was the general manager of the Lightning's affiliate in the American Hockey League during that time. He was with the Norfolk Admirals from 2010-2012 and then the Syracuse Crunch from 2012-2018.
Prior to his time in Tampa Bay, BriseBois was with the Montreal Canadiens organization. BriseBois was the Canadiens director of hockey operations from 2003-2006, the Canadiens vice president of hockey operations from 2006-2010 and was the general manager of the Hamilton Bulldogs (the Canadiens American Hockey League affiliate) from 2007-2010.
Yzerman had a great term as general manager for the Lightning. He won the General Manager of the Year award in 2015, and guided the Lightning to the 2015 Stanley Cup Final, where they lost in six games to the Chicago Blackhawks. However, he was unable to do what his predecessor Jay Feaster was able to accomplish, and that was to bring a Stanley Cup to Tampa Bay.
It will now be interesting to see where Yzerman goes from here. It would not be shocking if Yzerman makes a return to the Detroit Red Wings in the next couple of seasons. In Detroit, Yzerman played 22 seasons for the Red Wings from 1983-2006. During that time, he won three Stanley Cups, a Selke Trophy, Conn Smythe Trophy and Bill Masterton Trophy.