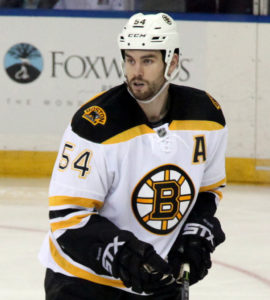 The Boston Bruins traded defenseman Adam McQuaid of Charlottetown, Prince Edward Island to the New York Rangers on Tuesday. In return, the Bruins received defenseman Steven Kampfer, a fourth round draft pick in the 2019 National Hockey League Entry Draft and a conditional seventh round draft pick.
McQuaid played 38 games last season for the Bruins. He had one goal and three assists for four points. He was a -1 with 62 penalty minutes, one game winning goal, 39 shots on goal, 80 hits, 56 blocked shots, seven takeaways and 13 giveaways.
McQuaid scored his lone goal of the season in a 5-3 win over the New Jersey Devils on February 11. It came from Riley Nash of Consort, Alberta and Matt Grzelczyk to put the Bruins ahead 4-3 in the third period. Interestingly, McQuaid also had 18 minutes in penalties during that same game.
McQuaid was originally drafted in the second round, 55th overall, by the Columbus Blue Jackets in the 2005 NHL Entry Draft. He was traded to the Bruins by the Blue Jackets for a fifth round draft pick in the 2007 NHL Entry Draft. Ironically, the Blue Jackets would later trade that draft pick to the Dallas Stars, who selected Canadian Olympic gold medalist Jamie Benn of Victoria, British Columbia.
McQuaid played nine seasons with the Bruins and had 13 goals and 53 assists for 66 points in 462 regular season games. He had 652 penalty minutes and was a +60. In the playoffs, he had three goals and eight assists for 11 points in 66 games and won a Stanley Cup with the Bruins in 2011. McQuaid's third career playoff goal came in the 2018 Stanley Cup Playoffs.