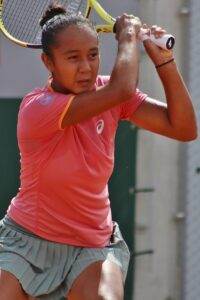 Leylah Annie Fernandez of Montreal, Quebec entered her third round match at the 2021 United States Open with zero expectations. Why? At number 73 in the world, she was facing the third seed, Naomi Osaka of Japan, the four-time Grand Slam champion and reigning United States Open champion.
It was not just the fact that Fernandez beat Osaka 5-7, 7-6, 6-4 that deserves headlines, it is how she won. Osaka was actually serving for the match at 7-5, 6-5, when she was broken by Fernandez, who subsequently hammered Osaka 7-2 in the second set tiebreak. It was not only a remarkable upset, but a sensational comeback too.
Fernandez will now face three-time Grand Slam champion Angelique Kerber, the 16th seed, in the fourth round on Monday. Kerber previously won the Australian Open and the United States Open in 2016, and Wimbledon in 2018. This will be their first career meeting.
Heading into the fourth round, Fernandez is one of three Canadians left in the final 16. In women's action on Saturday, sixth-ranked Bianca Andreescu of Mississauga, Ontario hammered Greet Minnen of Belgium, 6-1, 6-2, and on Friday, in men's action, Felix Auger-Aliassime of Montreal, Quebec, the 12th seed, defeated the 16th seed, Roberto Bautista Agut of Spain, 6-3, 6-3, 4-6, 3-6, 6-3. Andreescu will now face Maria Sakkari of Greece, the 17th seed, in the fourth round on Monday, and Auger-Aliassime will face Frances Tiafoe of the United States in the fourth round on Sunday.
Andreescu beat Sakkari in the semifinals of the 2021 Miami Open, 7-6, 3-6, 7-6. Auger-Aliassime has not previously played Tiafoe.