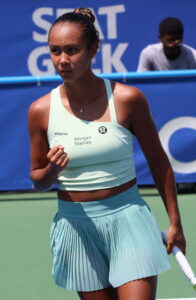 Leylah Annie Fernandez of Montreal, Quebec is in the final of the 2023 Hong Kong Open to be played on Sunday. In the semifinals on Saturday, Fernandez beat the tournament's fifth seed, Anna Blinkova of Russia, 6-2, 7-5.
The serve is the major reason why Fernandez was victorious. The 21-year-old Canadian had eight aces and only one double fault. Meanwhile, Blinkova had four aces and four double faults. Fernandez also broke Blinkova four out of nine break point opportunities, while Blinkova broke Fernandez just once.
When it comes to the world rankings, Fernandez's win would have been considered a minor upset. Fernandez is ranked 60th in the world, while Blinkova is ranked 37th.
Fernandez will now face Katerina Siniakova of the Czech Republic in the final. Siniakova is 85th in the world, and is the second player Fernandez has faced from the Czech Republic at the Hong Kong Open. In the quarterfinals, Fernandez beat Linda Fruhvirtova 7-6, 6-2. Fernandez has beaten Siniakova once before. In the second round of the 2022 French Open, Fernandez won 6-3, 6-2.
This will be Fernandez's fifth career WTA Final. She previously won the 2021 and 2022 Monterrey Open in Mexico. Fernandez is best known for reaching the 2021 United States Open, where she became the third Canadian woman to reach a grand slam singles final, before losing 6-4, 6-3 to Emma Raducanu of Great Britain.