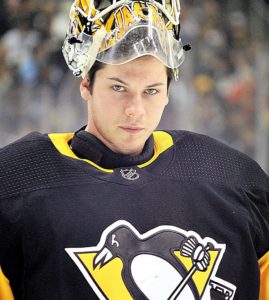 Tristan Jarry of Surrey, British Columbia collected his 14th National Hockey League career shutout on Friday. At the Capital One Arena in Washington, District of Columbia, the Pittsburgh Penguins netminder made 19 saves to became the first Canadian goaltender to register a shutout during the 2023-24 NHL season.
Jarry made eight saves in the first period, seven saves during the second period, and four saves in the third period. Alexander Ovechkin led the Capitals with four shots on net.
Canadians were involved offensively for the Penguins too. Canadian Olympic gold medalist Sidney Crosby of Cole Harbour, Nova Scotia scored twice, and Reilly Smith of Mimico, Ontario also scored. Crosby won the gold medal at the 2010 Olympic Winter Games in Vancouver and the 2014 Olympic Winter Games in Sochi.
With the win, Jarry improves to a record of one win and one loss. He has a goals against average of 1.53 and a save percentage of .944. The Penguins bounced back from a 4-2 loss to the Chicago Blackhawks on opening night.
There were some changes made by the Penguins in the offseason after missing the playoffs last season. Among the new faces are reigning Norris Trophy winner and former Ottawa Senators blueliner Erik Karlsson from the San Jose Sharks, Smith from the Vegas Golden Knights, and defenseman Ryan Graves of Yarmouth, Nova Scotia, from the New Jersey Devils.