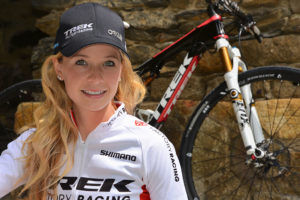 Emily Batty of Oshawa, Ontario won the silver medal at a World Cup women's mountain biking event in Val di Sole, Italy on Friday. For Batty it was her fifth World Cup medal of her career.
Batty had a time of one hour and 31 minutes. Maja Wloszczowska of Poland won the gold medal with a time of 1:30.51. Jolanda Neff of Switzerland won the bronze medal with a time of 1:31.21.
Batty reached the World Cup podium by 29 seconds. Pauline Ferrand Prevot of France finished in fourth place with a time of 1:31.29.
Batty, who races for Trek Factory Racing FC, has 1115 in the World Cup standings and is tied with Gunn-Rita Dahle Flesjaa of Norway for 11th place. Neff is the World Cup women's leader with 1742 points. Wloszczowska is in third with 1396 points, 98 points back of Yana Belomoina of the Ukraine, who is in second with 1494 points.
Interestingly, Batty's first career World Cup medal in women's mountain biking also came in Val di Sole, Italy. That podium finish was a bronze medal on June 15, 2013. Batty's other World Cup medals were a silver in Cairns, Australia on April 27, 2014, a bronze in La Bresse, France on May 29, 2016 and a bronze on her home dirt in Mont-Sainte-Anne, Quebec, Canada on August 7, 2016.