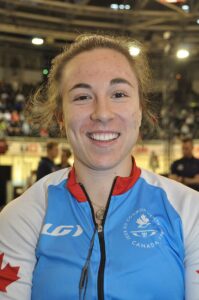 Lauriane Genest of Montreal, Quebec won a bronze medal for Canada in Olympic women's cycling on Thursday. Genest placed third in the women's kierin–the Olympic event in track cycling where cyclists compete against five other cyclists in the Velodrome at the same time, with the top three who cross the finish line awarded gold, silver, and bronze.
Genest reached the podium by 0.248 seconds over Olena Storikova of Ukraine. Shanne Braspennincx of the Netherlands won the gold medal, and was .061 seconds faster than silver medalist Ellesse Andrews of New Zealand. Andrews meanwhile was 0.087 seconds faster than Genest in winning the silver medal.
Heading into the 2020 Olympic Games in Tokyo in 2021, Genest had reached the podium once before at a World Cup keirin event in Cambridge, New Zealand on December 8, 2019. She placed in second, and was .112 seconds back of gold medallist Hyejin Lee of South Korea. In the World Cup standings for the women's kierin in 2019-20, Genest finished fifth with 1190 points, and was behind World Cup champion Lyubov Basova of the Ukraine (1705 points), Lee (1625 points), Martha Bayona of Colombia (1520 points), and Emma Hinze of Germany (1325 points).
In the women's keirin final, Genest had a strong finish and was able to reach the podium. She also had a strong finish in the semifinal heat as well.
Team Canada now has 17 total medals at the 2020 Olympic Games in Tokyo in 2021 (four gold medals, five silver medals, and eight silver medals). The Canadians are in 13th place in the overall standings.