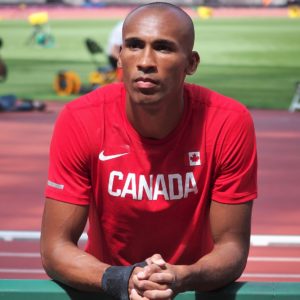 Damian Warner has won Canada's fifth gold at the 2020 Olympic Games in Tokyo in 2021. The native of London, Ontario set an Olympic record with 9018 points, according to olympics.com, and in the process became only the fourth decathlete ever to reach 9000 points.
Warner also became the first athlete to reach the 9000 point plateau in in the men's decathlon. Ashton Eaton of the United States had the old Olympic record with 8893 points.
Kevin Mayer of France, who won the silver medal at the 2016 Olympic Games in Rio de Janeiro and the 2020 Olympic Games in Tokyo in 2021, continues to have the world record in the decathlon with 9126 points. Mayer's point total in Tokyo was 8726 points. Ashley Moloney of Australia won the bronze medal with 8649 points. Warner reached the podium by 407 points over fourth-place finisher Garret Scantling of the United States, who had 8611 points.
In the men's decathlon, Warner had the fastest time in the 100 metres (10.12 seconds), fastest time in the men's 100 metre hurdles (13.46 seconds), and the longest jump (8.24 metres). It is Warner's long jump that deserves the highest praise because it would have won him the Olympic bronze medal. In addition to winning three of the 10 events, Warner was 11th in the shot put (14.8 metres), eighth in the high jump (2.02 metres), third in the 400 metres (47.48 seconds), third in the discus (48.67 metres), ninth in the pole vault (4.9 metres), seventh in the javelin (63.44 metres), and fifth in the 1500 metres (4:31.08).
Canada has now won 18 medals at the 2020 Olympic Games in Tokyo in 2021. They have five gold medals, five silver medals and eight bronze medals for 13th place overall.