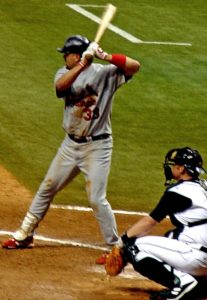 Larry Walker of Maple Ridge, British Columbia made Canadian baseball history on Tuesday as he became only the second Canadian ever inducted into the National Baseball Hall of Fame in Cooperstown, New York. Walker, who played for the Montreal Expos, Colorado Rockies and St. Louis Cardinals in his Major League Baseball career from 1989 to 2005, now joins pitcher Ferguson Jenkins of Chatham, Ontario as the only two Canadians who are inducted into the baseball shrine.
Walker, a right fielder, joins former New York Yankees shortstop Derek Jeter of Pequannock Township, New Jersey as the only two players inducted this year. Walker received 76.6% of the vote, while Jeter received 99.7% of the votes. Players were required to receive 75% of the 397 votes in order to get into the Hall of Fame.
This was the final year that Walker was eligible as he had been on the ballot for the last nine years, but did not get the necessary votes until now. This was the first year that Jeter was on the ballot.
Walker was a three-time National League batting champion. His highest batting average for a single season was .379 with the Rockies in 1999. He was also the 1997 National League most valuable player where he led the senior circuit in home runs (94) on base percentage (.452), slugging percentage (.720), and total bases (409).