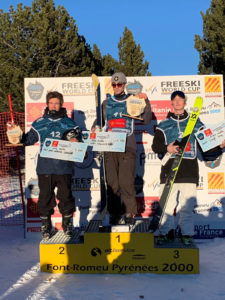 Philippe Langevin of Sainte-Agathe, Quebec won the silver medal in a men's slopestyle skiing World Cup in Font Romeu, France on Saturday. For Langevin, it was his first World Cup medal of his slopestyle skiing career.
One could argue that it was huge surprise that Langevin landed on the podium. His previous best World Cup finish was a 10th place in Stubai, Austria on November 23, 2018.
Langevin posted a score of 90.27 points. Alexander Hall of the United States won the gold medal with a score of 92.11 points. Andri Ragettli of Switzerland won the bronze medal with a score of 89.06 points. Langevin earned a medal by 2.97 points over Birk Ruud of France, who finished in fourth place with a score of 87.30 points.
Langevin is in 13th place in the World Cup standings. Ragettli leads with 357 points.
This is the second of five World Cup men's slopestyle skiing events on the 2018-19 calendar. Henrik Harlaut of Sweden, who had been a star at the Winter X Games over the last six years, won the first World Cup men's slopestyle skiing competition in Stubai, Austria in November. The next World Cup men's slopestyle skiing competition will be in Seiser Alm, Italy on January 27. There will then be World Cups in the United States and Switzerland to close out the season. The silver medal for Langevin will give him confidence as he prepares for the 2022 Olympic Winter Games in Beijing,