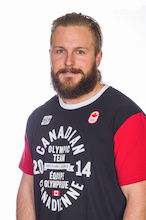 Canadian Olympic gold medalist Justin Kripps of Summerland, British Columbia and brakeman Cameron Stones of Whitby, Ontario won the silver medal on Saturday at a World Cup bobsled competition in Konigssee, Germany. For Kripps and Stones it was their second World Cup medal in Germany this month, as they also won a World Cup silver in Altenberg, Germany on January 5.
In the men's World Cup race in Konigssee, Kripps and Stones had a second place time of 1:39.12. Francesco Friedrich and Martin Grothkopp of Germany won the gold medal with a time of 1:39.01 and Johannes Lochner and Christian Rasp of Germany won the bronze medal with a time of 1:39.44.
Kripps and Stones reached the podium by 0.41 seconds. Romain Heinrich and Dorian Hauterville of France finished in fourth place in winning the European Championship bronze medal with a time of 1:39.53.
Even though Kripps and Stones have won medals at the last two World Cup races, they are only in 13th place in the World Cup standings. That is because they did not compete in the two World Cups in Sigulda, Latvia in December.
There will be five more World Cup two-man races this season and two will be in Calgary. That will take place on February 23 and 24. The 2019 World Bobsled Championships will take place March 2 and 3 from Whistler, British Columbia.
The silver medal for Kripps will give him confidence as he prepares for the 2022 Olympic Winter Games in Beijing. Kripps won the gold medal in the two-man bobsled at the 2018 Olympic Winter Games in Pyeongchang with brakeman Alexander Kopacz of London, Ontario.